Products
029i Inward sliding electric door
Safety, rellability and availablity at the highest level
System: Electric
Accessibility: Door
Opening type: Opening to the inside
Compatibility: City buses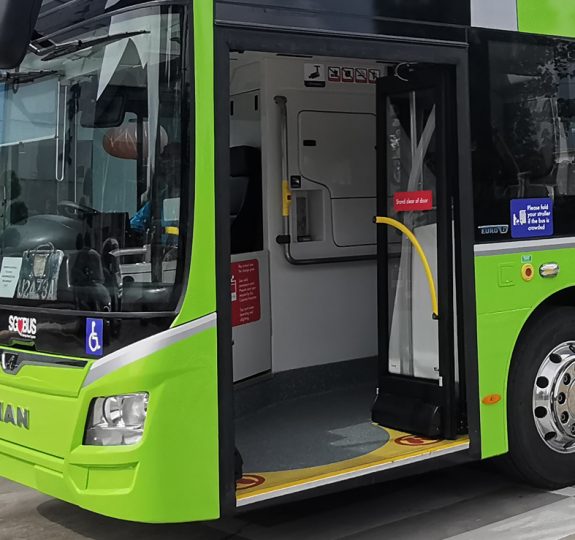 / Description and characteristics
Inward Sliding electric door.
Reversible motor with encoder and brake.
With self mechanical locking System.
Excellent sealing, by continuous rubber frame.
Closed and locked door signal, for maximal safety.
DM1 Pneumatic emergency module allows to reset emergency from driver dashboard.
Emergency cancellation when vehicle is in motion.
Vertical antivibration stabilizer.
Electrical safety edge.
EVOLUTION electronic DCU.
.PDF Download file
/ Advantages
High speed with smooth stard+end movement.
Anti-vandal system: impacts do not affect the motors.
Excellent control during all the motion stroke.
Self-mechanical locking system preventing the door from opening.
Excellent sealing.
Obstacle detection according to the most restrictive specifications. (anti-drag)
High reliable components ensure low LCC.
Electronic with higher level of self-diagnosis.
/ Technical data
Standard service conditions: 27,5 Vdc, 8bar, flat surface.
Operating pressure = 4 - 10 bar
Working voltage = 18 - 32 vdc
Portal Width = 1.250 - 1450mm Height = 2.200mm
Cycles = 1,5 M
Maneuver time < 2s
Operating slope: Front= ±21% Side= ±10%
Electromagnetic Compatibility acc. to R10
Burning behaviour according to R118.03
Watertightness according to EN14752 railway entrance norm.
Ask for more information
Contact our sales team now to receive more information about our product 029i Inward sliding electric door
Contact a commercial now